Young children love to be read to. My kids are no exception. In fact, both of my girls want to hear the same books over and over again because, after all, good storybooks just never get old. When I first decided to homeschool kindergarten we used
Five In A Row
and LOVED IT. Five in a Row is a literature-based unit study full of creative ideas and wonderful stories recommended for ages 4-8! Imagine my delight when the
TOS Crew
gave us an opportunity to review
Before Five in a Row
! The same great product, recommended for younger children ages 2-4! I am so excited to tell you about another homeschool product that has quickly become my favorite!
What is Before Five in a Row (BFIAR)?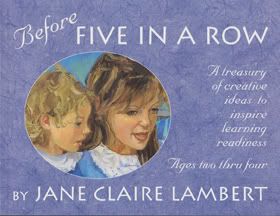 Before Five in a Row is a fun way to connect with your kids and teach them while snuggling on the couch and reading classic children's literature. Each BFIAR lesson plan gives you the recommended book to read (you will either have to buy this or find it at your local library), a summary of the book, a Bible application and suggested activities based on language arts, math, fine arts, social studies, science, relationships and even games to play! Each lesson plan is geared for children ages 2 to 4 although I was able to stretch it to use with my 20 month old...and the stories are wonderful enough that my 5 year old scrambled to participate with us too.
How do I use BFIAR?
It is wonderfully simple. Each book is read - you guessed it -
five times in a row
. Each time you read the story to your child you will learn something different based on the recommended and suggested activities.
For example: Lesson 1 is the story book "Jessie Bear What Will You Wear?" by Nancy White Carlestrom.
The first time we read it through we looked at loving relationships. We pointed out how Jessie Bear hugs his Mommy and at bedtime he is tucked in and gets a kiss goodnight. We gave each other hugs to show how hugs and kisses are a wonderful way to show how much we love each other.
The second time we read it through we talked about Jessie Bears clothes. Even simply asking my 20 month old, "Maggie, where are Jessie Bears pants? Where are Jessie Bears shoes? Where are Maggie's shoes?" I also requested some bear-themed lacing cards to play with from our local library and we had fun dressing our little bears!
The third time we read it through we talked about how Jessie Bear has a blanket that is blue and he likes to play Peek-a-boo. We played peek-a-boo with Maggie's banket and had a giggle fest!
The fourth time we read it through we talked about how Jessie Bears mommy made him a healthy lunch. We had fun gluing lunch onto a paper plate. With my older we discussed which foods were healthy and which were not!
The fifth day we read Jessie Bear we had fun pointing out other recognizable items on the picture book pages such as "Maggie, where is the flower?" and "Can you find Jessie Bears pillow?" and so forth.
Storybooks for kids this age never get old and I could have read it 10 times in a row and I think my girls would've still loved it!
More about BFIAR:
Part 1 of BFIAR consists of 24 lessons, each based on a different storybook. Part 2 consists of the Parent's Treasury of Creative Ideas for Learning Readiness which includes how to, not only, ensure dialoging and listening, but how to add large and fine motor skills to your activities, how to incorporate bath time, kitchen, and shopping to the fun, and recommended toys to enhance learning.
What we like about BFIAR:
I really like that Five in a Row gets us reading some more classic children's literature to my girls that I wouldn't normally pick up off the shelf myself. Some of the titles include:
My Blue Boat, My Little Rabbit, Blueberries for Sal, Goodnight Moon, The Big Green Pocketbook, The Runaway bunny, Caps for Sale, The Snowy Day, Katy No-Pocket, We're Going On A Bear Hunt, and Corduroy. A good number of the books are Caldecott Winners.

FIAR runs an awesome message board to share ideas. Check it out
HERE
!
FIAR also has a Digital Resources library where you can purchase Fold & Learn printables to accompany your lessons. You can check those out
HERE
:
What we didn't really like about BFIAR:
I have only one minor grumble about BFIAR and that is, unfortunately, not all the books on the book list are available at my local library. In fact several of the books listed are out of print and are not even available on their distributor site, Rainbow Resources, to purchase.
How much does it cost?
BFIAR retails for $35.00 and can be purchased via their distributor, Rainbow Resources.
Click
HERE
to purchase Before Five in a Row!
Browse through the available storybooks
HERE
.
Disclaimer:
I received Before Five in a Row free of charge in exchange for an honest review.
All the opinions expressed herein are my own.
To find out what my crewmates thought of Before Five in a Row click
HERE
.