Finding a good, solid Phonics curriculum is overwhelming! When I first started homeschooling Kindergarten, I stressed and stressed over all the of the curriculum choices! There were so many options and many of them looked SO good... It is hard to judge at a noisy curriculum fair, a busy bookstore, or over the internet just
which
curriculum is actually going to be a good fit for your kids. Especially when you can't see it in person and thumb through its pages. A lot of times, finding the right one takes a bit of trial and error and it is frustrating to spend money on a curriculum that, in the end, just didn't work for your children. Thankfully great products, like those by
Memoria Press
, eliminate the stress of weeding through curriculum and offer an awesome, full, curriculum that is so easy to use!
A big thank you
Memoria Press
and
The Old Schoolhouse Crew
I had an opportunity to review Memoria Press: First Start Reading & Classical Phonics. I am so excited to share this product with you!
First Start Reading:
First Start Reading is a no-nonsense, no-fluff method of learning how to read. Ideal for Pre-K through 2nd grade First Start Reading uses a traditional segmented phonics approach for teaching your child how to read.
This program is intuitive and uncomplicated. For example, your child will start with individual letter sounds: M makes the "mmmm" sound as in moon, man and mop, B makes the "buh" sound, and so on. The student workbook includes coloring, tracing and handwriting pages. As your child leans to write they are encouraged to use the correct pencil hold -- a valuable handwriting skill that is often overlooked into today's schools.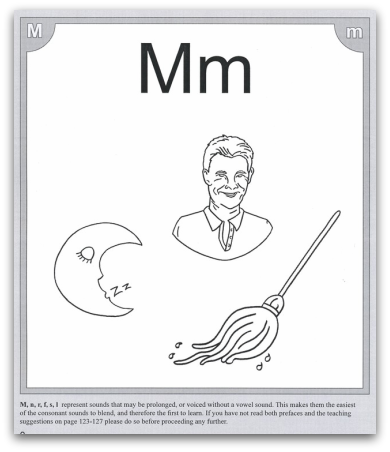 After working through each letter sound your child moves on to phonics blends and word families. Things like: -an, -in, -it, -at and so forth. Each blend is then strung together to make words! By lesson 3 your child is capable of reading several words! There is nothing more rewarding that watching your child's eyes light up when they have accomplished something new!
Yes! It really is that easy! First start reading includes a easy-to-follow Teacher Guide and 3 Student Workbooks. You can buy just the 3 student books, they retail for $21.00 or you can purchase the 3-book First Start Reading set with teachers guide, it retails for $29.95. Items can be purchased
HERE
.
Classical Phonics:
We were also able to review Classical Phonics, a supplement to First Start Reading.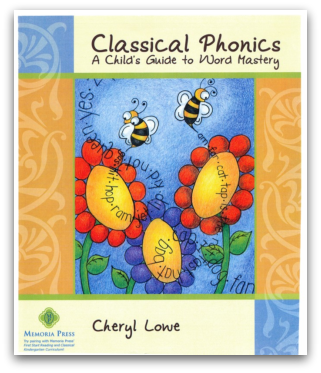 Based on the 1913 classic,
Word Mastery
by Florence Akin, Classical Phonics is a fun approach to learning to hear, see and recognize letters and words. Using "ear, tongue and eye training", Classical Phonics encourages children to hear & recognize consonant and vowel sounds, listen to how words are spelled to interpret meaning, encourages correct pronunciation of phonetic sounds through drill and associating sounds with symbols for long-term memory. It is well organized, systematic and easy to use.
Take a look at the Table of Contents! By Unit 10 your child will achieve mastery of over 2000 words!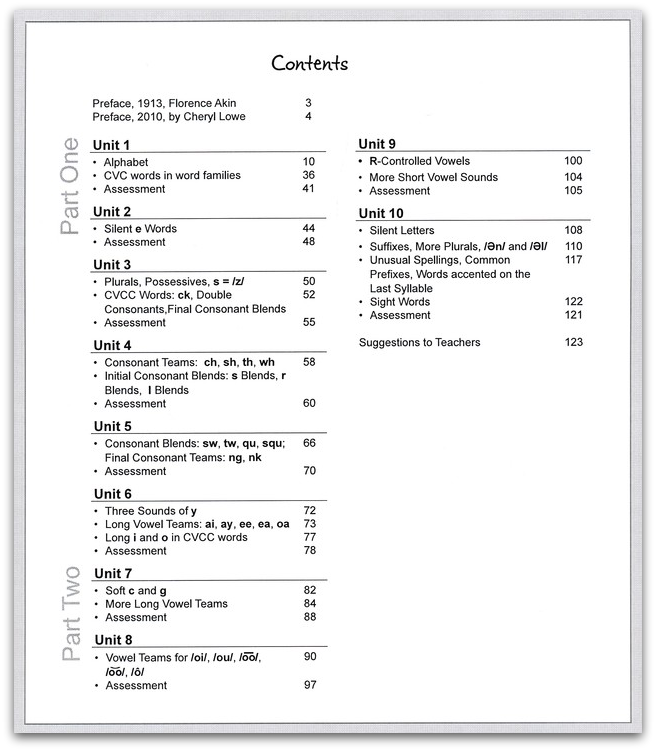 Classical Phonics retails for 14.95 and can be purchased
HERE
.
What we liked about First Start Reading & Classical Phonics:
-Simple and intuitive. A very common-sense approach to learning phonics, word blends and a no-stress method of learning to read!
-The price is great! A full phonics curriculum for less than $50.00! Wow! That is hard to find!
-Teachers guide is VERY simple to use, requiring only basic prep-work.
Teaches the lost skill of "correct pencil hold" and posture!
What we didn't like about First Start Reading & Classical Phonics:
-Spying the long word-list pages immediately made my daughter cringe. Page after page of just words (only small black and white illustrations on some pages) overwhelmed my daughter causing her to immediately announce "Oh! I can't do THAT" (She could - but it was intimidating for her). In the past we have used workbooks that have a lot of color pictures and illustrations. You will not find any of that here...which is perfect for many homeschool families whose child gets overwhelmed or over stimulated busy worktext.reading pages or the homeschool parent who really wants a no-frills approach to learning.
To learn more about Memoria Press or to shop through their catalog click the button below!

To see what my crewmates thought of Memoria Press Classical Phonics & First Start Reading click
HERE
.
Disclaimer:
I received Memoria Press: Classical Phonics and First Start Reading free of charge in exchange for an honest review. All the opinions expressed herein are my own.