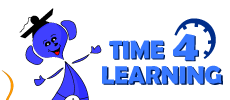 My 5 year old loves playing on the computer and in today's modern world, familiarity with computers is a must. Because of this, I have really wanted to incorporate the computer into our homeschool day, I just haven't been sure how to do it. So, I was so excited when the
TOS Crew
gave me an opportunity to review a computer-based program!
Time 4 Learning
is an online learning program that can be used as a supplement or as a complete homeschool curriculum! They offer computer based activities for grades PreK - 8. For a monthly fee you can conveniently access
student lessons
,
lesson plans
and a
forum
for parents.
What does Time 4 Learning look like?
When you log in to Time 4 Learning, the main screen gives your child the option to choose their subject. Since my daughter is in Kindergarten, she is only offered Language Arts, Math and Science. Once she clicks on her choice it will take her to a screen that looks this:
This screen shows the lessons she has already completed (the ones with the big, green check mark) and the lesson she needs to work on next is tagged by the arrow. After clicking on the arrow she gets a screen with all the items that need to be completed. She will follow the arrow through each task to completion. Upon completion each task-star will spin. The quiz at the bottom is optional.
Inside each task are different games or interactive programs that teach your child a concept. This particular game is called The Writers Corner and encourages your child to write her own story.
The program is very intuitive and my 5 year old moves through the program quite easily with very little to NO direction from Mom.
Other Student Features:
Constantly running in the background is this menu:
This menu allows for 4 different actions. The question mark is a help menu. The Feedback button takes the user to the parent menu. The far left is the playground where your child can play games and the far right is a timer. One of the parents tools is the ability to set the timer for the desired amount of time you will require your child to do the schoolwork portion before allowing them access to the playground. For instance, I set the time for 20 minutes. My daughter is then required to work through the school tasks for 20 minutes before the playground button opens up and she can click on it to access the games.
The playground is, by far, my daughters favorite part of Time 4 Learning. There are so many different games to play! In the upper right corner of this screenshot you can see the menu. The parent is also able to set the amount of time the child is allowed to play on the playground. Here is a smattering of games...you can see next to each column a scroll bar that shows there are several more games that you cannot see in this screen shot.
Handy Parent Features:
There are a lot of great features for parents with this program. The most notable are the complete lesson plans for each subject and grade:
Each clickable link takes you to a database full of lesson guides, activity sheets with answer keys, reading lists, additional activities and tests. All required reading is available online but you can download recommend book lists that complement the lesson as well. In addition, there is a downloadable supply list for science experiments.
Grades/Completed Work
is kept in the reports section of the Parent Menu and you can download and print a full progress report that shows date of completion and score for each activity...
OR, completion date & number of completion tries per activity which also shows the amount of time the child spent on each activity... (I use this for filing in our portfolio).
What we liked about it:
There are many things to like about Time 4 Learning. First, I enjoyed the sense of independence that it gave my daughter in being able to do schoolwork without any help from Mom. Plus, it gave me 30+ minutes of free time to focus on my toddler, make dinner, fold laundry, etc.
The Online Parent Forum was helpful in answering several of my questions, plus you can see who else is using Time 4 Learning in my local area. (There were several!)
Time 4 Learning is convenient in that it requires no prep work for Mom. My daughter likes it enough that she asks to play on Time 4 Learning on a Saturday or a Sunday afternoon...giving her a few extra hours of school time outside of our regular day.
Tracking of time/scores with printouts for filing in our portfolio is a great benefit that makes it easy to keep and see how many minutes/hours of each subject my daughter is accomplishing in a day. I log in on Sunday afternoon and put in the dates I want my report to read and print. Voila! I file it away in our school files.
I also like the option of setting the timer for the playground. It locks out the playground for the desired amount of time I want my daughter to work on actual schoolwork before letting her play.
What we didn't like about it:
The sign in process isn't intuitive enough for my 5 year old to log in independently. It required first & last name and a password. My 5yo is pretty smart...but it is difficult for her to figure out exactly what she needed to do to log on without my help. I would appreciate a "Welcome Back, Kayley" button...for her to click and get started with maybe a "Not Kayley?, click here to login" kind of option. Maybe that isn't practical in households with multiple children - but - it would be really handy in mine!
Also, as a homeschool parent, you could not create "assignments" for your child, this option is only offered to schools/teachers. I would really enjoy the option of, instead of setting a timer, setting assignments for completion before unlocking the playground. I couldn't find any information on this until after I searched the parent forums.
How much does it cost?
Time 4 Learning is 19.95 per month for the 1st child, 14.95 per month for each additional child. There are no commitments and you can cancel at any time. (All pricing information is subject to change - check the website for current/updated pricing information).
What kind of operating system do I need?
A PC or iMac with DSL or cable modem to the Internet is recommendend. I run a Mac and it was easy to download and easy to use!
We are enjoying Time 4 Learning and you might too! Click
HERE
to try a demo of Time 4 Learning.
To sign up for Time 4 Learning click
HERE
.
To see what my crewmates thought of Time 4 Learning click
HERE
.

Disclaimer: I received Time 4 Learning free of charge in exchange for an honest review.
All the opinions expressed herein are my own.