I, personally, had never questioned the idea of homeschooling. I always knew it wasn't for me. I wouldn't do it. Absolutely not, no way-no how! I enjoyed my "me" time way too much, I was counting down the days until Kayley would start preschool and I could have a couple of hours to myself! I had even made sure that Kayley was potty-trained at 2 years old so that as soon as she turned 2.5 I could enroll her in preschool and I could get back to being "me." I missed "me" a lot! I would be able to go to school, get a job, go shopping, whatever I wanted -- all unencumbered by a toddler. It sounded like bliss! Or was it?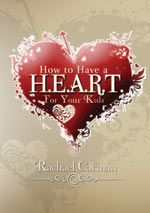 In her book, How to Have a H.E.A.R.T For Your Kids, the author Rachel Carmen was a lot like "me." Homeschooling was far off her radar, in fact, so far that she wondered how her smart homeschooling friends could even consider wasting their time and talents on their children in this manner. Surely they could've made a more significant impact out in the workforce? After several days of Kindergarten misfortune, the Carmen's pulled their oldest son out of school and embarked on the homeschool journey.
Staying home with your children 24/7 is a humbling experience. Becoming your child's teacher, in addition to being a parent, requires patience. It is more than just teaching. It is more than education. It is a lifestyle choice that, in order to thrive, families must be united. Using the acronym H.E.A.R.T., Rachel spells out exactly how you can grow closer to your children, homeschool and be happy through it all!
H - Have a Heart for the Things of God
- In order to have a heart for our children, we must first have our hearts turned toward our Heavenly Father. Spending time in prayer and scripture study encourages self-discipline and a heart of gratitude.
E - Enrich Your Marriage
- Having a strong marriage builds a firm foundation for your family. Loving and supporting your spouse demonstrates to your children that your marriage is important. What a good example for children - when they can see that their parents love one another and work out problems.
A - Accept your Children
- As parents we need to accept our children and love them for who they are, just the way they are. It is also eye-opening that Rachel Carmen mentions that we may find that Gods will or our children may be different than our will for our children. Talk about humbling!
R - Release Them to God
- Our children are only on loan to us from a loving Father in Heaven and back to Him they will return. What an awe-inspiring responsibility we have as parents to do right by our children to help them know and love God.
T - Teach Them the Truth
- We have a responsibility as well to teach our children discernment...to know right from wrong and to be sensitive to the promptings of the Holy Ghost that will encourage them to make good choices.
H.E.A.R.T. spells out exactly how you can grow closer to your children, homeschool and be happy through it all! At the end of each section is a "Heart Checkup" for journaling and personal reflection. A perfect read for the homeschool veteran down to the new homeschooler.
It is a small, adorable hard-bound book (only about 7" x 5")- perfect size for gifting!

Disclaimer: I received this book free of charge in exchange for an honest review.
All the opinions expressed herein are my own.