I know I've said it several times, but I'm going to mention it again. We LOVE online learning. Kayley loves getting her own computer time each day and I'm always thrilled when she can spend 30 minutes or so on the computer doing something educational. Thanks to TOS Crew and
Reading Eggs
we were able to sample another great online learning product!

What is Reading Eggs?
Reading Eggs has made it their mission to make learning to read fun and enjoyable for your children. It is easy to use and it's virtual world encourages kids to learn...and they don't even realize that they are doing it! They think they are just having fun and playing games! There are 100 lessons on Reading Eggs that are perfect for kids ages 4 to 7 who are just learning to read or who are working on reading proficiency.
Here is a small tour of Reading Eggs:
Logging in - choose either Reading Eggs or Reading Eggspress (for 7-12 year olds).
Once logged in, here is a sample of Kayley's dashboard. You can see there are so many options on the left to choose from. She can explore the Kingdom. Continue with lessons. Have fun in the play room. Decorate her own house. Play in the arcade. Put together puzzles and so much more!
Once she has clicked "Lessons" she continues on the path, which looks a LOT like a fun gameboard! Each numbered circle is a lesson.
The lessons are very interactive and very fun!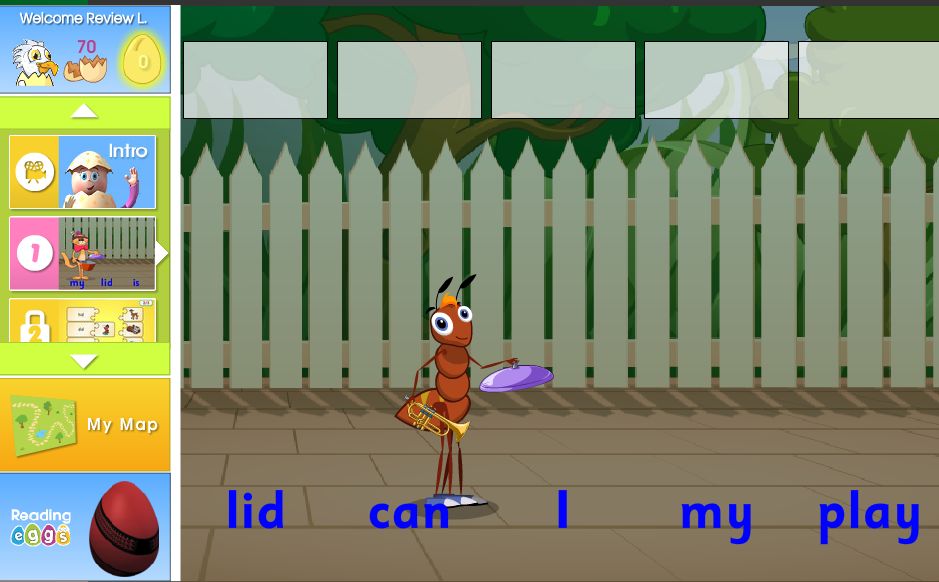 How much does it cost?
12 months of an online Reading Eggs subscription costs $75.00 and will give your child access to all parts of the growing Reading Eggs website for 1 year. A 6 month subscription is $49.95. Reading Eggs offers a special 50% family discount, with any full price 6 or 12 month subscription purchase. You can add a second or third child at the same time and receive 50% off their subscription price.
You can also purchase a month-by-month plan to Reading Eggs for $9.95.
To purchase Reading Eggs or if you are not sure -- you can register for a free trial
HERE
.
Reading Eggs also offers print books to go along with the online lessons. Learn more about pricing options
HERE
.
We really enjoy using Reading Eggs and I bet you will too!
I know many of my crewmates were pleased. To read their reviews, click
HERE
.
Disclaimer: We received a 3 month trial to Reading Eggs in exchange for an honest review. All opinions expressed herein are my own.