I am always looking for the best way to train up my children. It seems that character training is always at the very top of my mind. I worry about my children growing up to be solid, strong and ethically & morally straight. I have used several programs in the past that focus on character qualities, many with mixed results, some with pretty good results but I wanted something simple. I wanted something colorful. I wanted something very kid-friendly. BUT. Most of all, I wanted something that WORKED and worked
really
well. I had my eye on this product called We Choose Virtues for about six months now... I am so grateful that through the
The Old Schoolhouse Homeschool Crew
and
We Choose Virtues
, we were able to review this product!
What is We Choose Virtues?
"We Choose Virtues
was created by Heather McMillan...out of her love for children and her desire to see them reach their personal potential. As a preschool teacher and a children's pastor, it concerned her how often she came across children whose lack of self control, honesty and perseverance was almost debilitating. How could they succeed in life without the skills that come from good character?"...
read more
. It was because of this gap in character education that Heather decided to create the loveable & colorful characters, their corresponding virtue and the memorizable catch-phrases!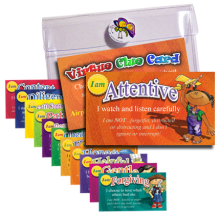 How Does it Work?
We Choose Virtues (WCV) is a character development tool that you use daily. After introducing the first virtue and demonstrating them (and yes, you can start anywhere!) help your children memorize the cute catchphrases, learn the antonyms, and then watch for opportunities to see the virtue (or it's opposite) in action! Teachable moments abound!
How do I use it?
WCV is so simple to implement! We were offered an opportunity to review the
Family Character Assessment
,
Teacher Handbook
,
Coloring Book
and
Virtue Clue's Cards
. We took the Family Character Assessment and decided to started learning Obedience with Oboe Joe! The Teachers Handbook gives several ideas on the best ways to introduce the virtue and catch-phrases. Kayley colored the Oboe-Joe coloring sheet. We worked on that virtue for 2 weeks until we memorized the catch-phrase. We have since kept Oboe-Joe on display...and moved on to our next character quality! We plan to continuously repeat the character qualities indefinitely. They are so cute!
How much does it cost?
The Virtue Clue's Cards
are $5.99,
The Teacher's Handbook
is available as download for $4.99 and hard copy for $19.99,
Coloring book
(download) is $3.00 and the
Family Character Assessment
is free!
To browse through all of WCV's products, click
HERE
.
What we LOVED about WCV!
-Catch phrases are fun and easy to memorize!
-Finding teachable moments is so easy and all I have to do is gently remind my daughter by saying the first few words of the catch-phrase! She finishes reciting it...and stops the behavior!
Here is the best part! Right now We Choose Virtues is offering a variety of coupons codes! You can only use one at a time, but they are a great deal! Use any of these codes in your shopping cart to start saving:
VIRTUE15 for 15 % off everything in your shopping cart
FAMILY for $3.00 off the Kids Virtue Poster
SHIPFREE for free worldwide shipping
There is also a great special running right now: Through the end of February
The 100 Days of Virtue Poster and Stickers will be included FREE with any Homeschool Kit purchase!
Visit We Choose Virtues on Facebook!
https://www.facebook.com/wechoosevirtues
To see what my crewmates thought of We Choose Virtues, click HERE.
Disclaimer: I received We Choose Virtues in exchange for an honest review. All opinions expressed herein are my own.