Geography is an area where we sometimes tend to fall short in our homeschool. We often look at maps in our history program but we really couldn't tell you much about the countries, people and cultures of today. This was something that I have wanted to improve, but I just hadn't figure out how. Until now! We have been having a great time with this fantastic new Kindergarten through 4th grade
downloadable geography program
we received from
Let's Go Geography
written by Carol Henderson.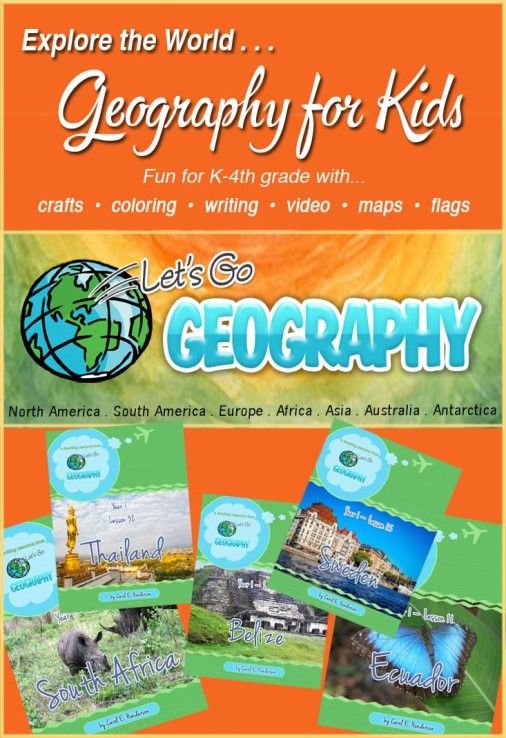 All About Let's Go Geography:
Exploring the globe by continent and country, Let's Go Geography introduces your child to a new country each week. Filled with maps, flags, anthems, pictures, videos, notebooking and coloring pages, and crafts Let's Go Geography is a virtual adventure around the globe!
This program is simple and easy to use. Upon registering you are taken to your dashboard where you can choose your lesson. Here you can see that we have already completed lesson 1-3 and are ready for lesson 4. Click anywhere on the lesson to get started.
The lessons download as a printable PDF packet with clickable hyperlinks. In Lesson 1 you are encouraged to create a binder to file all of your activities in. Kayley's looks like this!
First in your download packet you are given a handy checklist to guide you through the lesson. Each item that you need will be found as embedded hyperlinks in the lesson. This example is from week one where with the US Northeastern States.
Up front in your packet you are given recommended reading materials and suggestions for referencing books at your local library. You are also given a heads-up for the needed craft supplies for the week so you can have them ready to go should you decide to do the craft at the end of each lesson. Your packet is divided into 5 chapters.
Chapter 1 is Map It!
The maps are great black and white outline maps. You are given instructions on how to download each map and what to color... Here my daughter colored the Northeast region. The Map It section is divided into age-appropriate activities. Even though this curriculum is geared for K-4th, my 6th grader has gleaned a lot from this curriculum. There are questions for each Map It section that you can discuss with your students.
Chapter 2 is The Flag
Chapter 3 is The Music
Embedded Youtube videos take you to a previewed sample of each countries National Anthem! Lyrics are included as well as any necessary translations.
Chapter 4 is Let's Explore
Start by reading through several fascinating facts about this weeks country including interesting geographical features, landmarks, and more. Several embedded Youtube videos take you on a virtual tour of amazing places that you just can't always visit in real-life. The Northeast took us over the rim of Niagara Falls from a birds eye view! Wow! That's definitely not something I have ever done! And we learned about how maple syrup is made!
Chapter 4 also gives the children printable pictures of gorgeous landscapes and famous landmarks to assemble a photo page for their notebook.
Chapter 5 is Create!
Carol includes the links and templates necessary to put together a craft that compliments the lesson. Don't have time for a craft? That's ok, Carol has included a coloring page for those weeks where you just can't (or don't want) to complete a craft!
For week 1 my girls assembled lighthouses complete with tea lights in their tower!
There are 36 lessons built in to each year of Let's Go Geography. Review lessons are mixed throughout with breaks built in. The world tour through Let's Go Geography is an ambitious 3-year plan! Check out all the places you will go! (Click on the picture for a larger view)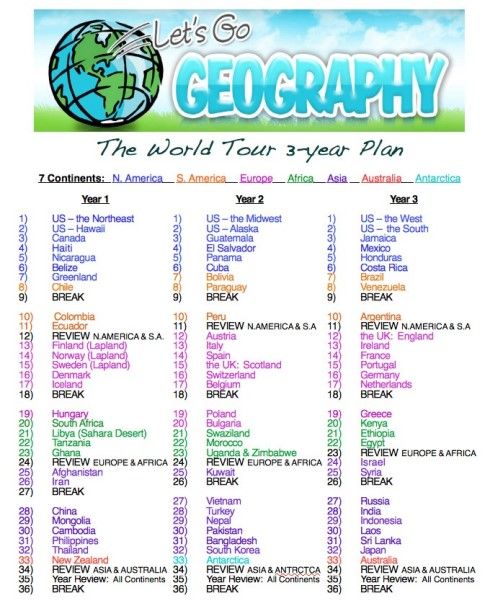 What We Thought of Let's Go Geography:
I was prepared to be underwhelmed...after all, I have reviewed a LOT of downloadable curriculum before and it has always been hit or miss. I was never so glad to be wrong! Let's Go Geography is thoughtfully and logically laid out. The checklists keep you moving right on track. The lessons are perfect for the K-4th grade range and I really feel that they are very appropriate through the 6th grade too. The videos are amazing and not once have I encountered a broken of "iffy" link!
I receive an email from Let's Go Geography every week reminding me of our lessons. The program is designed so that you complete one lesson per week. This has, unfortunately, not worked out the greatest for us since it takes us about 1.5 weeks to complete a lesson.
When I asked my girls what their favorite part of Let's Go Geography is:
Maggie said she liked that it was "family friendly and she could do it with her sister." She also "liked the crafts, the maps and the videos and other stuff."
Kayley said that she liked that it "had lots of crafts but that you can choose to also do a coloring page instead. Sometimes I'm just not feeling very crafty. It was nice that you could watch a video instead of reading a book to learn more about each place."

Let's Go Geography has been a welcome addition to our homeschool studies and we plan to continue! Are you interested in taking your child on an adventure around the globe? Let's Go Geography offers several options to purchase... You can buy individual studies, semester plans or a whole year! You can also check out sample resources and freebies!
Keep up to date with all the latest from Let's Go Geography
by visiting them on Facebook and Pinterest!
Many of my fellow crew mates also enjoyed an adventure through
Let's Go Geography. To find out their thoughts click the link below.
Thank you for swinging by!