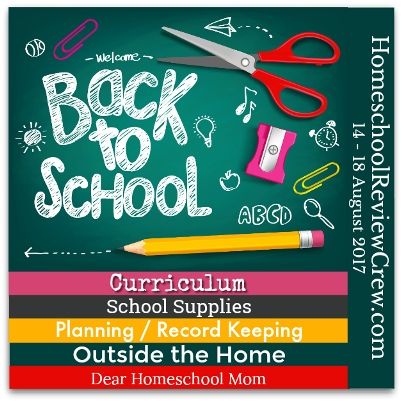 Hello! Welcome to Swinging On Small Hinges!
If you are visiting for the first time from The Old Schoolhouse blog I am so grateful that you took the time to swing by Swinging On Small Hinges. I hope you enjoy your visit!
When I first started homeschooling I was SO nervous that I immediately jumped into an all-in-one video based curriculum. I was so scared that I would mess up. While we still have fond memories of that first year of homeschooling kindergarten I have since, over the last 7 years of homeschooling, loosened up a bit and have felt confident enough to branch out and try many new things. And when I say many...I mean many. Flexibility is one of the blessings of homeschooling! Thank goodness for that because we have already made a couple of changes this year!
Some of my readers know that
I posted our curriculum choices for our 2017-2018 Hogwart's Themed school
year not too long ago but, believe it or not, we have already made a couple of changes. (I bet you do believe it!) The problem we ran into within the first week was that I once again have tried to do too much... Does this happen to you too? We barely started and I realized that our lives are just too busy to try to do the amount of work I had scheduled in a week. Oops. Somehow it didn't cross my mind that with piano, swimming & sewing lessons, doctor appointments, and a lot of service through our church...we would not be able to do that without stress and frustration. I guess Mom is just a little too ambitious... I streamlined almost immediately and had to put aside my pre-done, home made schedules in favor of a week-by-week schedule. It just works better for our family...
Either way, without further ado, this blog post marks an "update" to our curriculum choices for 2017-2018. I would love to share what has been working great so far...and what we have tweaked (or completely changed) this school year.
History!
Click Here to share BiblioPlan! Thank You!
BiblioPlan History remains a favorite. We have been using BiblioPlan in our family integrated history studies for 6 years now. We love the flexibility, the readers, Remember the Days, the Maps, the Timeline...pretty much everything about it, but especially the flexibility! BiblioPlan's family guide makes planning history so easy for all grades. We love having both girls in the same time period at their own level and we appreciate that you can substitute books and it does not affect the schedule or literature. I use it as a guideline and I flesh it out as I see fit each year. This year we are studying Early Modern History, BiblioPlan Year 3.
Science!
We were all set to pounce on Guest Hollow for the first time this year with Kayley enjoying Knowledge of Nature and Maggie enjoying Little Otter's Anatomy. Unfortunately that has pretty much fallen apart due to the sheer volume of living books we were trying to read for both history and science. We were forced to streamline this almost immediately. This is totally my fault...self-professed overachiever here!
What we are doing instead to streamline science:
Kayley is still using Apologia's Exploring Creation with Chemistry & Physics Text and Notebook for her own personal study as scheduled in Guest Hollow (without the extra worksheets)...but she is also tagging along with Maggie in something we are trying that is NEW!
Maggie is using The Good & The Beautiful Arthropods Science Unit by Jenny Phillips (Kayley is tagging along because she just loves science) If you haven't explored The Good & The Beautiful curriculum yet, I highly recommend it! It accounts for the other changes we have made this school year.... (I wish I had found this earlier!)
Language Arts!
We were WAY too ambitious as far as Language Arts goes and within the 1st week I was already regretting my attempts at creating "rigor" in my homeschool....again...(Did I mention I am an over achiever? I'm sooooo sorry girls). Anyway. I convinced everyone to scrap our over-kill Language Arts plans and try The Good & The Beautiful for Language Arts.
Oh. My. Goodness. It IS both good AND beautiful. Not kidding. It is advanced without being painfully rigorous. What is amazing is that levels 1-5 are FREE. Go, check it out!
(You won't be sorry.)
Now, not only is it both good and beautiful but it really takes all of our different language arts books and complies it into one (or two) neat and tidy lessons! Reading, Grammar, Spelling, Geography and Fine Arts are all rolled into The Good & The Beautiful. It has really eliminated some stress for me and the girls.
Maggie is in LOVE with The Good & The Beautiful. She placed into Level 1.
Kayley is still unsure about The Good & The Beautiful but wants to try "another week or two" before she makes a decision on what she thinks of it. She placed into Level 5.
Both girls are also using the handwriting portion of the program too...
Mom (me!) really likes The Good & The Beautiful.
(I think I will write a review about it one day soon).
Math!
We are still loving Math-U-See! Kayley has used MUS since the beginning. She thrives under the mastery approach and really enjoys the videos with Mr. Demme.
Maggie started with MUS as well, completing Primer, Alpha and 1/2 of Beta, but just hasn't flourished with it as well as I was hoping...so this year we are taking a break from MUS and using Christian Light Education Math 2 and so far (2 weeks in) it is wonderful! Maggie seems to respond well to the flashcards, math drills and other tasks as assigned in the light unit. My hope is that the more "spiral" approach to math will resonate with her and help her build confidence in math!
Foreign Language!
If you remember, we had big plans to do Prima Latina (Kayley) and Salsa Spanish (Maggie) and we haven't managed to get either of those programs going yet... But, we are just our first month into this school year so there is still hope! Right? Riiiiiiight.... ;)
That's about it for our curriculum this year. I wonder what everyone else is using? I can't wait to read through all the Blog Hop link ups to find out!!!
Save
Save