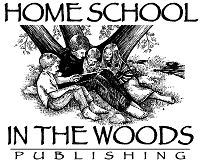 Do you love hands-on history? We sure do!
Our homeschool is living-books based and we really love finding a great product that allows us to combine the living books approach with fun, hands-on history activities to really solidify learning. This summer we have enjoyed using a fun product from Home School in the Woods' Hands-On History series called Make-A-State Activity Pak in the downloadable .pdf version.
About Make-A-State
Is a state study required for your elementary school student?
Looking to learn more about the history of your state?
Or any state?
This 20 project Pak is so versatile and flexible allowing you to study any state in the US (including Washington D.C.) using both generic black line masters/templates and state-specific downloads. Each Pak includes activities to prompt your student to write creatively and enjoy researching information about the state of your choice. The Pak also includes geography & mapping activities, government, travel & tourist info, state motto, symbols, quarters, anthems, sports teams, and much more! The Pak comes with logical, step-by-step instructions that make assembling the lap book a snap. Also included is a "Name That State!" file folder game to help your student learn more about the states, their shape and location. While the recommended grade range is 3rd - 8th, my 2nd grader really enjoyed this project with just a few modifications.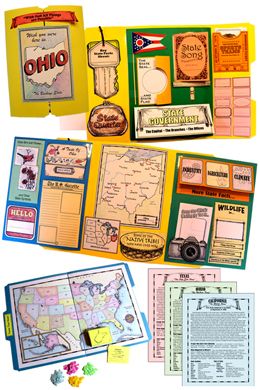 What We Thought of Make-A-State
This was our first time using a product from Home School in the Woods. I was immediately impressed with how simply laid out the program was. Upon downloading, each item is tucked neatly away into a digital folder that I saved right to my desktop for easy access. Following the "start here" instructions led me step-by-step through the printing process to get the materials ready for use. Investment is minimal, using things we already had at home like colored/white card stock, color/white printer paper, glue sticks, crayons, yarn, brads, and our new best friend: double sided tape!
The instructions provided were amazingly intuitive and uncomplicated to follow. Believe it or not even my 2nd grader was able to complete several of the steps independently!
My girls chose Arizona (where Maggie, grade 2, was born) and Hawaii (because Kayley, grade 6, would like to visit there someday!) Using reference books we already owned and a little help from the Internet the girls were able to find the answers to all the research projects. They each completed 1-2 of the 20 steps each day and completed the project in just over 2 weeks, saving one afternoon for assembly.
The finished project is really striking. The girls are both SO proud of their accomplishments! The completed books currently sit on display on our hearth where the girls have wasted no-time in treating others to a narrative walk-through of their state! They have had a lot of fun showing off their newly discovered knowledge!
I am SO pleased with the quality of Make-A-State that we already have plans to use more Home School in the Woods projects in our 2017-2018 school year!
Home School in the Woods has several other Activity Paks subjects to choose from, including:
The Old & New Testaments
Composers
and Artists!
If you are looking something to enjoy during your history studies you can also check out the
Time Traveler Series
that includes topics that would dovetail nicely with any American or World History curriculum. I just purchased
The American Revolution
for our early modern history studies next year and we can't wait to have another beautiful project to show our friends and family!
And! One more thing! I saw an announcement on Home School in the Woods Facebook page that they are now offering "A-la-cart projects!" These look fantastic! Even more fantastic is - Home School in the Woods is currently offering the Erie Canal Project free! Use code alacart at checkout!
Many of my fellow crew mates reviewed other products from Home School in the Woods. You can check out their reviews by clicking the linky below! Thanks so much for Swinging By!