As a homeschool Mom to 2 very active children, I am always looking for curriculum options that allows for hands-on learning while increasing literacy. My kids like to be on the move! Finding hands-on learning in other subjects seems to be easy... Science, History & Math are often accompanied crafts, manipulative blocks and experiments. But, one subject area where you don't often find tactile learning options is in Language Arts.
English on a Roll
is filling that gap! Using visual cues as well as tactile learning, English on a Roll takes a totally different approach to english grammar by providing your child with direct contact with the english language. This allows for a deeper understanding of grammar terms and their use. We were excited to have the opportunity to review this unique program! We received
English Grammar Teaching Method
instructors manual with 1 set of 40 cubes.
What is English Grammar Teaching Method All About?
English Grammar Teaching Method uses the "Multisensory Structured Language Teaching Method" to help students learn by hitting all the learning styles: auditory, visual and tactile. Recommended for children ages 5 and up, the English on a Roll cubes are particularly relevant to students who are English as a Second Language (ESL), Special Education and Beginning Readers.
The cubes can be used for one-on-one tutoring, with small classes or even large groups. The color-coded learning cubes are a nice, professional and heavy, weighted quality that fit comfortably in small hands. What is really great about English Grammar Teaching Method is the fact that a teacher CAN use hand-on manipulatives, even in grammar!
The Teachers Guide is a no-frills approach to getting children started in mastering the english language. Simple sketches and fill-in-the-blanks offer just enough repetition to help children remember the terms without overload or boredom.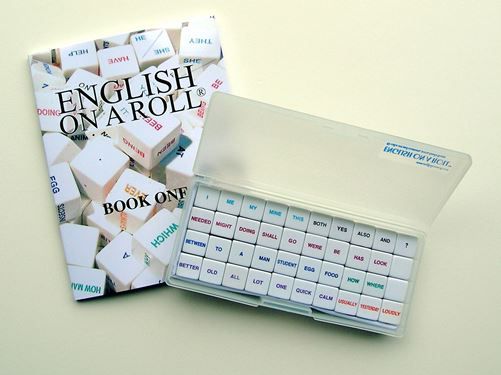 What We Thought of English Grammar Teaching Method:
I was definitely pleased to find a program that combines reading, discussion and tactile learning. I have found that multi-sensory learning is the best approach to help children internalize, solidify and recall complex grammatical concepts.
I had originally intended to use this program with my 2nd grader, but found the concepts to be more difficult that I had anticipated. The first lesson jumps immediately into pronouns. The teachers guide instructs you to show the pronoun cube while repeating each word followed by "this is a pronoun" but I thought it unusual that we were not instructed to tell the child that a pronoun is a word that is used in the place of a noun. My younger daughter (age 7) found it somewhat confusing, but my older daughter (age 10) who has a stronger familiarity with grammar found the cubes to be a fun way to review the grammar concepts she learned last year.
The color coded cubes make it easy to replace your pronoun with another word and build more sentences following the same format. Once you have a firm understanding of pronouns your student will then move on to plurals and other grammar terms, again using the cubes in the same way. This worked great for Kayley and I think we will enjoy these cubes throughout the year as we constantly revisit grammar terms and sentence building.
Both girls also enjoyed building wacky sentences with the cubes for fun...long after the lesson for that day was done. Teaching grammar using the cubes made learning feel like a game!
The Teachers Guide was simple to use and required very little prep which is always great for a busy homeschool mama!
Learn more about English on a Roll:
You can
view a video demo
to get a better feel for what English on a roll - English Grammar Teaching Method is all about and you can also view the first 10 chapters of the Instructors Manual by
filling out the download link
!
To purchase English on a Roll - English Grammar Teaching Method and cube set
visit their website
! You can either fill out an order form to mail in or purchase through Amazon. Note that when clicking through to Amazon you can choose to view "more buying choices" and you will find English on a Roll as an Amazon vendor...
Stay up to day with English on a Roll by
following them on Facebook
!
Still have questions?
Check out their FAQ
to see if if is address there or you can email your questions
using the Get In Touch
form.
Several of my fellow crew mates also enjoyed using the English Grammar Teaching Method with their families! Find out their thoughts of this unique program by clicking the linky below.
Thanks for swinging by Swinging On Small Hinges!