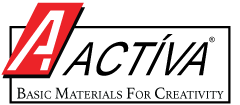 Summer has proven to be a great time to enjoy doing the homeschool crafts that we just didn't have time to get to during the school year. But, like many homeschool Moms, there are some projects that I tend to avoid... like big, messy, gooey, sticky projects! While something like paper maché makes some pretty amazing large-scale projects, I have to admit that I do not always want to gather the materials, mix the goo, and make the mess! If only there were an easier way to put these projects together without creating a total disaster! Well, there IS! And I am excited that I get a chance to tell you how to have the FUN of paper maché without the mess by using this great product that we had the chance to review called
Rigid Wrap and CelluClay Quik-Sculpting Kit
offered by
Actíva Products!
We received the Rigid Wrap and CelluClay Quik-Sculpt Kit for review. The box contained 2 rolls of Rigid Wrap, an 8 ounce package of CelluClay, and complete instructions for creating 12 different projects. Each product was interesting...not something I had ever used before!
Rigid Wrap is a plaster gauze/cloth that works very much like a cast for a broken bone! When wet, the wrap becomes a plaster that is easily smoothed over your creation to give it a nice consistency and even finish. It is very uncomplicated, just add water!
CelluClay is an "instant paper maché" that is simple to prepare and easy to use. Again, so easy, all you have to add is water!
How we used Actíva Rigid Wrap Quik-Sculpt Starter Kit:
While the kit comes with simple black and white instructions to help you make several projects, Actíva also sent us an electronic copy of their Favorite Sculpture Kids Crafts e-book that offered even more options! This is a free download that I highly recommend! My girls chose to make the Totem Pole as found in the e-book since they thought it would make a great display item for their end of unit study on Early American History and Native Americans.
We started out with a simple paper towel tube...
Then we wet the Rigid Wrap using a mixing bowl filled with water and begin layering the plaster cloth gauze onto the tube... We found that it had to be pretty moist in order for the plaster to really work well...
After letting the plaster dry (It took about 2 days to get completely dry) we moved onto the CelluClay portion of the project. We had a little more trouble with this since we couldn't seem to get the texture quite where we wanted it but once we added a little more mixture we were able to get it to a nice thick, pasty consistency. It really makes an instant paper maché and while it was super nice to avoid the strips of newspaper and gluey-goo we found the CelluClay to kick up quite a fine powdery dust cloud that was both concerning and challenging to clean up. Next time I would mix the clay on the porch for better ventilation and clean up.
The clay itself worked great. My girls glopped it on, then smoothed it down with their fingers and gave it some texture using a craft stick. This allowed them to add special and more refined features to their critters on the Totem Pole.
Once it was dry... Painting!
We just used regular, tempera paint, to add color.
The completed projects turned out SO cute!
What We Thought of the Actíva Quick-Start Sculpt Kit:
I often find that I avoid projects (or can't even do a project) because we do not have all the necessary items on hand... We really enjoyed having the ability to do an entire project in one simple box.
The Rigid Wrap was surprisingly easy to use! We found less to be more when it came to the size of the pieces. Small rectangles worked like a charm and were more manageable for small hands to manipulate.
The CelluClay did puff up a very intimidating cloud that had me a little stressed about breathing it in. I really recommend doing the initial mixing in a well-ventilated area. It took a while to get the "fall out" cleaned up, but, honestly...cleaning up honest-to-goodness paper maché would've been much worse! Oh! I also found on their website the
Material Safety Data Sheet for CelluClay
and there is nothing to be worried about as far as safety goes! (Also listed is a Material Safety Data Sheet for Rigid Wrap, among other products!) While I wouldn't intentionally inhale it...there is nothing toxic in it so use it without worry.
It took about 3 days to complete the project, not including dry-time which is GREAT for homeschool Moms who want to do a project that won't take weeks to complete!
We enjoyed using this simple project kit and we are pretty excited we have enough left in the kit to do a 2nd smaller project later in the year!
Many of my fellow crew mates also enjoyed playing with Actíva Products too! You an read their reviews by clicking the linky below.
Thanks so much for Swinging By!