I am so excited to share that I have been blessed to participate again in
The Old Schoolhouse Review Crew
! This is a fun group where I get an opportunity to review homeschool products in exchange for an honest review. I participated with the crew for a couple of years back before Maggie was born, and for a while when she was a baby but life got in the way...(you know how that goes!)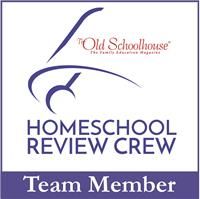 I was a late addition to the group (They started a few months ago) and they are already hopping with many review products. I'm nervous to jump in and get started and already my head is spinning with the excitement of review products coming my way and the nervousness of writing product reviews.
My blog has been quieter in the last couple of years and while I am not looking to make any money from it, I love the idea of getting it up and busy again. I will be slowly updating and making some changes to my blogs format over the next couple of months in anticipation of what, I hope, is a long relationship with the TOS Crew. I've been welcomed warmly and I'm delighted to get started.
Right now I am already working on an awesome how to homeschool DVD series and the girls are loving a lap book review on states! I can't wait to share some of these great products with you!
Thank you for hanging out with me here at Swinging On Small Hinges and I hope you enjoy the upcoming changes.