Storytelling and narration are great skills for kids to learn but sometimes easier said than done. Who knew that learning simple storytelling techniques could be so easily taught using your iPhone? Not me! Thanks to the Schoolhouse Review Crew and the Mobile Education Store we were given and opportunity to review a product that we have had SO much fun with:
Story Builder
!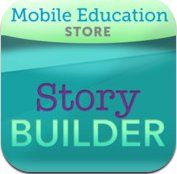 About StoryBuilder:
Story Builder was Huffington Post's winner of the 2011 best reading app! Recommended for ages 4 and up, Story Builder was designed with 3 goals in mind, to help children:
1) Improve paragraph formation; 2) Improve integration of ideas; and 3) Improve higher level abstractions by inference.
Extensive use of audio clips promotes improved auditory processing for special needs children with autism spectrum disorders or sensory processing disorders.
(Read more HERE.)
How does it work?
Story Builder is fun and easy to use. Here is how it works:
First Story Builder provides your child with a scenario, a question, and a prompt. Answering to the question your child will hit the record button and answer the question. For example: "After the storm ends, the boat...will quickly sail into the harbor and drop anchor." After recording your child can play their answer back and decide if they like what they said. The first time Kayley hit the "play answer button" she was floored! She LOVED hearing her own voice talking back to her!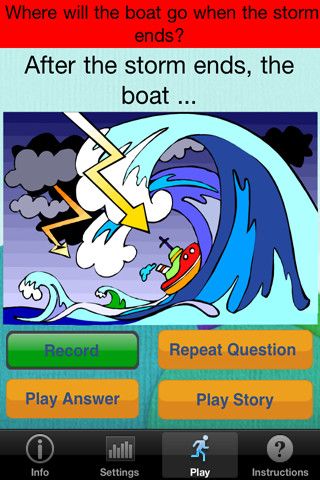 Depending on your child's reading/stor'ytelling level they will answer at least 4 questions about the same story. At the end they will hit the "play story" button and listen to all the answers strung together. Voila! A story!
A cool feature: You can save the stories and email them to yourself! I haven't figured out how to upload the story to the blog but it is really cute to have those stories saved in my email. I don't know what I was thinking - but I should've emailed a story to Grandma. She'd love it!
Also noteworthy: This app does NOT slow down my phone or cause it to "freeze up" like some other apps do. Story Builder runs smoothly and we've had no problems with it at all.
What did we think about Story Builder?
We love, love, loved it! Of course kids LOVE to play on your phone, don't they? My daughter is always thrilled to get a chance to play with my phone. Now, not only is my daughter doing something she loves but she is learning how to narrate as well! When Kayley gets hold of my iPhone, the battery is dying by the time I get it back. This app works pretty well while waiting for a table at a restaurant or dentist office or bored in the backseat!
How to buy:
Story Builder
retails for only $5.99 through the
iTunes app store
and is compatible with iPhone, iPod touch, and iPad. (Requires iOS 4.1 or later).
I know a lot of my other crewmates reviewed StoryBuilder or another great product through the Mobile Education Store called "Rainbow Sentences." To see what they thought check out the link below!

Disclaimer: I received StoryBuilder in exchange for an honest review.
All opinions expressed herein are my own.