Sometimes I worry a little about whether or not we are meeting the state standards in our homeschool. Right now Kayley is young enough that where we live she is still under the age of compulsory attendance in our state (here in Missouri it is age 7). As we get deeper into our homeschool journey it is nice to have an option to fall back on a program that will meet our state requirements if I feel like we need to fill in some gaps. IXL Math is able to do just that! We were blessed through the Schoolhouse Review Crew to try out
IXL.com
!
What is IXL?
From their website:
Practice makes perfect, and
IXL
makes math practice fun! IXL allows teachers and parents to monitor the progress of their students and motivate them through interactive games and practice questions. Widely recognized as the Web's most comprehensive math site, IXL offers a dynamic and enjoyable environment for children to practice math. Students who use IXL are succeeding like never before
.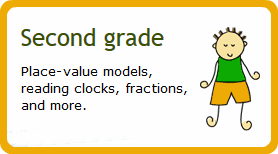 IXL provides drill and fact based math practice in a fun way and can be used with any math program. We spent our time reviewing the second grade level but they offer math practice for grades PreK-8th/algebra with higher level math coming soon! See the learning objectives for each grade
HERE
. They are aligned with each states standards and IXL is used in over 150 countries around the world!
How does it work?
Your child begins by working through each individual task on his or her own personal home page.

As they complete the drill they are given virutal rewards and incentives. Each grade level has its own game board and the student "unlocks" hidden items as they complete the tasks, master a skill, practice for a certain amount of time, etc. This fun treasure hunt is what makes the drill seem like a game.
Your child is given a score or ranking as they go that can be easily viewed and accessed through the parent dashboard. The option to print out full spreadsheets for filing in your childs portfolio is convenient to generate and easy to use. The spreadsheets allowed me to see the topics Kayley practiced, how she scored and how long it took her to do complete. This is a really great tool for measuring and tracking her progress.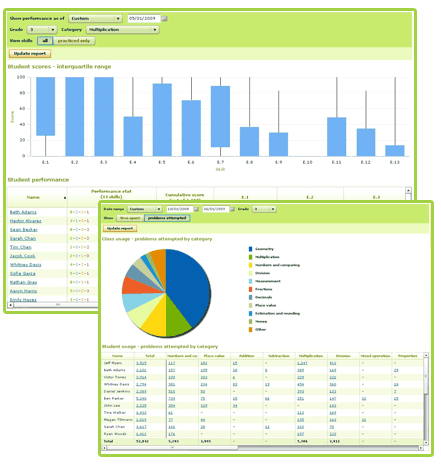 IXL is reasonably priced at $9.95 per month per child or $79 per year.
All major credit cards accepted.
To order IXL, click
HERE
.

What did/didn't work for us:
I enjoyed IXL. I like how easily laid out the sections are, the printable spreadsheets are great and it is really easy to move smoothly from one task to the next. The treasure hunt and earning incentives was motivational.
Kayley on the other hand grew a little frustrated with IXL and here is why: As she worked through the tasks she would get to about question 16 and start getting tired. When she got to question 20 thinking she was done she would get so overwhelmed that it didn't stop...question 21, 22, and so forth. On taskings where there were 30 questions to answer she was flopping over in her seat groaning. It was just too many questions for her. 15-20 practice questions max for my little girl. We didn't do any tasks that had more than 30 questions, I am not sure if they go any higher...and I cannot control the amount of questions she had to answer before achieving mastery and moving onto the next level.
Also, as we were working through skip counting Kayley had to type the answers in herself...and she is just not quite there yet. She had to search for the numbers she needed. If she made a typo, searching for the delete or backspace key took a while and after about 10 questions she would ask me to type them for her. I didn't mind since I am usually "hovering" anyway but there were several times where she mised one because she typo'd and it wasn't a true reflection of what she learned.
With that being said,
IXL.com
is a great program that is easy to use and this is just what didn't work for
us
...this program may work great for your family! I know a lot of my fellow crewmates love this program and you can read their reviews by clicking below!

Disclaimer: I recieved IXL.com free of charge in exchange for an honest review. All opinions expressed herein are my own.