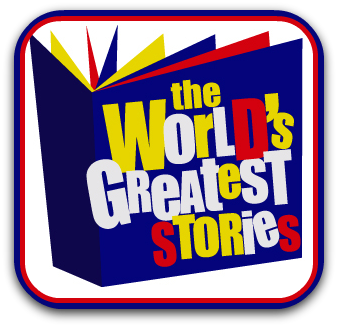 We live in a pretty rural area and because of this we often find ourselves spending a lot of time in the car traveling to the grocery store or church. It takes us about 30 minutes to get to our destination in any direction we travel. It wasn't until recently, when I was listening to a Christian audio book that I discovered just how much of what I was listening to my kids were understanding! My kids are 5 and 1. I honestly thought they were pretty oblivious to what goes on in the front seat. As we pulled into the drive one day the narrator trailed, "She looked out the window and then..." beep! I turned off the car. From the backseat, Kayley shouted, "and then what!? and then what happened??" Since that moment I realized that, not only should I listen to only wholesome music (little ears were listening) - but I could listen to educational audios and my kids would listen to that too! It is always exciting to get a new audio book to try - but it was really exciting to get a copy of
The Worlds Greatest Stories
!
What is the Worlds Greatest Stories
??
Well! I am truly enthused about this audio series and I'm glad that I can share it with you!
The World's Greatest Stories
are narrated by actor
George Sarris
. Putting his heart and soul into this effort, George Sarris puts you in Bible times through his incredible voice work! His voice acting was incredible and kept us on the edge of our seat! Sound effects add to the excitement! We were thrilled to listen to The Prophets Volume 1 - New International Version. Prophets Volume 1 includes the stories of:
The Blazing Furnace

The Handwriting on the Wall

Daniel in the Lion's Den

Elijah & the Prophets of Baal

The Prophecy of Jonah
All CDs are offered in both the King James Version (KJV) and the New International Version (NIV). We listened to the NIV but we were also sent a snippets of KJV samples and all I can say is "WOW." Sarris really brings complex Bible language to life with his voice. Each CD is about an hour long. Perfect for us with our 30 minute each way drive!
What we liked about The Worlds Greatest Stories:
-They were very entertaining!
-We learned the Bible stories in a completely "non-boring" way.
-I liked it and will continue listening to it!
What we didn't like about The Worlds Greatest Stories:
-We really enjoyed them, but parts of it can be intense. Maybe too intense for some of your younger listeners...
The Worlds Greatest Stories is geared for ages 4-12 - but honestly, it is great for ANY age! (I love it, and I am WAY above 12). All CDs retail for only $7.95 each! There are many different CDs (see below) to choose from (they are also available on cassette tape). I really enjoyed these and plan to order more!
To make a purchase, click
HERE
.
Receive free shipping if you order 6 or more items!!!
To see what my crew mates thought of The Worlds Greatest Stories, click
HERE
.

Disclaimer:
I received The World's Greatest Stories free of charge in exchange for an honest review.
All the opinions expressed herein are my own.