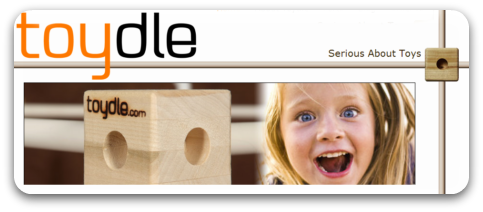 Robert Brownfield
, father of twins and president of Worry-Free Manufacturing in Boise, Idaho knew that good toys were hard to find. In fact, finding toys that didn't become boring within a week or that fell apart after a couple hours of serious play seemed to be non-existent. It is after this constant frustration that
Toydle
was born.
Robert knew that kids needed to use their imagination during play and one of the best ways to do that is to give a child the tools to build a fort! Made in America, right in Boise ID, and using high quality PVC tubes and hand-crafted wooden blocks, toydle forts are assembled simply - all by kid-power! Add in your own sheets and blankets, drape and hang them up with the provided clips and voila! Fort! Or a castle! Or a garage! Or a cave... Or...well, you get the picture!
for kids anywhere from ages 3-11, or even bigger kids! (like ME! LOL!)
To make a purchase, click
HERE
.
All Toydle Forts come with a money back guarantee!
Now, for the really, really great news!
Toydle Forts will be giving away not one! not two! but THREE of the BIG forts to The Old School House Homeschool Crew readers!
Hop on over HERE to enter!
Contest ends on Wednesday, December 7th...
and somebody has to win... Why not you? :)

This contest is open to residents of the United States ONLY. TOS Staff and TOS Crew Members (and their families) are not eligible to enter this contest.