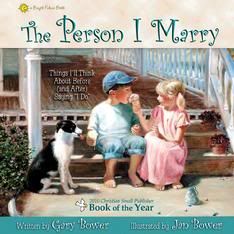 Several months ago when I attended our local homeschool conference, I saw a kiosk set up with some of the most beautiful picture books for children. I didn't have time to stop and drool over the books since I was in a hurry to get from one seminar to the next and eventually I lost track of that display as I got lost in the huge maze of homeschool vendors. What a great blessing when I saw the cover of this book to review and quickly recognized it as the beautiful hard-covers from that unknown kiosk! A special thanks to
Bower Books
and the TOS Crew for offering me an opportunity to review one of their newest books called
The Person I Marry: Things I'll think about long before saying I do.
Wonderfully written by Gary Bower with beautiful pictures painted by Jan Bower, this book chronicles all of the character traits we should be looking for in our life-long companion. This book is so touching and so easily summed up all of my hopes and dreams for my little girls.
Using poetry, Gary Bower shares essential character qualities...approachable, tender, gentle, kind, courteous, gracious, thoughtful, generous, patient, respectful, good natured, able to laugh... My heart was so full by the end of this book! "What makes a princess? What makes a prince.... it is something inside - something much deeper, will help me determine which one is a keeper! The vows I'll say I mean to keep, so I'll look hard before I leap!" The Bowers encourage children to find a
true friend
who is beautiful in their heart.
This book was awarded the 2010 Christian Book of the Year and would make a wonderful gift book for children of ALL ages.
The Person I Marry
is hardcover, 32 pages and retails for $11.99. You can purchase it
HERE
.
To learn more about the Bower family, click
HERE
.
Watch a video about the book,
The Person I Marry
from
Bower Books
on
Vimeo
.
To find out what my fellow crewmates thought of The Person I Marry, click
HERE
.
http://homeschoolblogger.com/homeschoolcrew/
"target=_blank">
http://i1202.photobucket.com/albums/bb374/TOSCrew2011/Totally%20TOS/HSCrew468x60Animated.gif" border="0" alt="Photobucket">
Disclaimer:
I received The Person I Marry free of charge in exchange for an honest review. All the opinions expressed herein are my own.